18 April | World Heritage Day | 10am to 4pm | Free | Ticketed
When we were thinking of event ideas for New Lanark's World Heritage Day celebrations, a yarnbombing challenge was the first that that popped into our heads. It seemed like a natural fit for this historic cotton mill village. Skip ahead nine months, and we've found ourselves surrounded by wool, tea, biscuits, chocolate, and enough boxes to make several cardboard forts.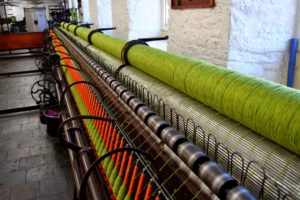 On 18 April, yarnbombers and guerrilla knitters will descend on New Lanark to cover as much of the Institute as possible in woollen yarn as part of our wider Scotland in Six celebrations. In addition to a day of knitting, the event will feature a variety of free activities, such as a natural dyeing workshop using plant dyes and a "sheep to shawl" spinning talk.
All of the action will be documented on social media, and you can follow along or join the conversation using #ScotlandinSix.
So why do we have so many boxes and tasty treats in our Edinburgh office? We're giving away free yarnbombing kits (while supplies last), so that people from all across Scotland can get involved. We're even expecting colourful bunting and pom poms from as far north as Shetland. If you'd your own kit, just contact info@digit2017.com
Whether you're an expert, beginner or simply wool-curious, we'd love to see you there.
Free tickets are now available
Signature Event for Scotland's Year of History, Heritage and Archaeology 2017 / Funded by EventScotland
– Julianne McGraw, Dig It! 2017 Communications Office