There is still time to register for Knitting-in-the-Round's Knitting in Wartime Study Day which will take place on Friday 27 March at The Lighthouse in Glasgow City Centre. 
Admission is free of charge but please register on our Eventbrite site.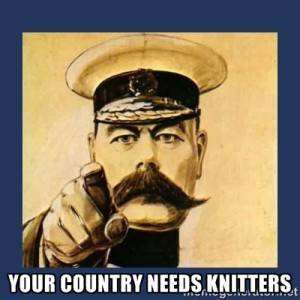 In association with Glasgow Women's Library the day will feature a series of talks by scholars and practitioners and the opportunity to browse the GWL knitting pattern collection.
PROGRAMME
10.00    Arrival
10.15-30 Welcome and Introduction
10.30-11.15 Jane Tynan (Central St Martins): 'Comforting Body and Soul: Knitting in First World War Britain'
Jane researches the history of clothing and has a particular interest in military dress. See http://www.arts.ac.uk/research/research-staff/a-z/dr-jane-tynan/
11.15-11.45 Wendy Turner (Glasgow Women's Library). The Knitting Pattern Collection at GWL
Wendy is GWL Librarian and will be speaking about the GWL collections and bringing along a selection of their knitting patterns. http://womenslibrary.org.uk/explore-the-library-and-archive/the-archive-collection/
11.45-12.15- coffee
12.15-1.00 Joyce Meader ('The Historic Knit'): 'Knitted Comforts from Crimea to the Modern Day'
Joyce is a historical knitting expert who owns an extensive collection of commercially printed knitting patterns which are used to recreate items for re-enactors, museums and private clients. http://historicknit.co.uk/
1.00-2.00 Lunch (own arrangements)
2.00-2.45: Maggie Andrews (University of Worcester): '"Men went to war and women knitted" : domesticity and  crafts on the Home Front in Britain'
Maggie Andrews is a cultural historian who has written on domesticity, femininity, the Women's Institute, broadcasting and the Home Front in the two world wars.  http://www.worcester.ac.uk/discover/professor-maggie-andrews.html
2.45-3.30: Barbara Smith (Knitting and Crochet Guild): 'Useful Work for Anxious Fingers – Knitting & Crochet in the First World War'
Barbara Smith is a researcher and volunteer at the Knitting and Crochet Guild which holds an extensive collection of items relating to knitting in the two world wars.  http://www.kcguild.org.uk/
4.00 Close
For information on the Venue location see http://www.thelighthouse.co.uk/