Knitting in the Round: Hand-Knitted Textiles and the Economies of Craft in Scotland
This network will develop collaborations between a range of sectors: business, heritage, education, tourism and culture and arts; and will explore how historical understandings of knit as an economic, creative and cultural practice inform modern and contemporary uses of this textile practice. Knit is the pin-up craft for sustainability, creativity and authenticity.
Knitting in the Round will investigate the transformation from small-scale, home-based craft production to one of Scotland's most identifiable brands and it will explore the relationships that knit facilitates: between young and old, across continents, between practitioners and researchers, producers and consumers, in the Scottish and international context.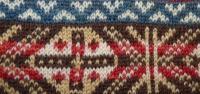 Through a series of events combining practice and theory we will interrogate the meaning of knit in the present and the past. The result will be greater public understanding of the ways in which knit contributes to the Scottish economy, to health and wellbeing and to cultural enrichment.
This project builds upon an RSE funded series of Workshops in 2011-12 on the theme of 'Hand-knitted Textiles and the Economies of Craft in Scotland'.