As preparations for In the Loop 4 at the University of Glasgow 26-28 August progress we thought you might like to know a little more about our keynote speakers.
So today we will begin with Rosemary Eribé, our keynote on Wednesday 26th.
'From Craft to Couture: ERIBÉ Knitwear's experience of taking craft into the modern demands of couture'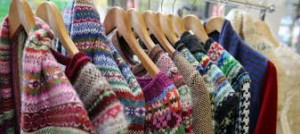 http://scotlandredesigned.com/exhibitors/eribe
Rosemary Eribe is founder and managing director of Eribe Knitwear which is based in Galashiels in the Borders and which produces a range of hand and machine-made knitwear informed by heritage designs.
Rosemary will talk about her experiences of building the company and the demands and expectations of taking hand knitting into a commercial and very demanding customer base. Eribe works with 240 skilled hand knitters; her talk will cover training, yarns, pattern writing and development, fashion trends and the tension between the customer's expectations and demands that may bear little relation to the craft nature of the production process.
If you are not familiar with Eribe designs do have a look at http://www.eribe.com/ where you can 'meet the handknitters' and watch a video of Rosemary speaking about innovation and design.