We are excited to have designer and maker Di Gilpin as one of the plenary speakers at In the Loop 4. Di is on of Scotland's preeminent knitwear designers and makers who produces daring, exciting and eminently wearable knitwear, desired by couture fashion houses and ordinary knitters alike.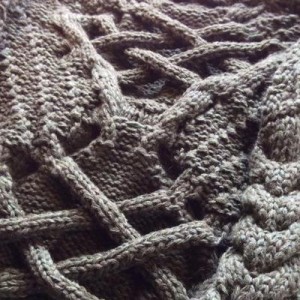 www.digilpin.com
Di's workshop and studio is in Fife and from this base in a stone bothy she coordinates her business which employs 90 home based knitters across Scotland. Her talk, 'From Croft to Couture: exploring the relationship between Maker and Designer' will examine the complexity of interpretation when working with designers on couture projects…the pitfalls as well as the highs…using examples from her own experience.
Some of Di's garments will also feature in the end of conference Fashion Show which will highlight the vibrancy and creativity of Scotland's knitwear industry.
If you haven't yet booked your place at the conference which takes place at the University of Glasgow 26-28 August, there is still time. To browse the programme and book your place go to:
http://www.gla.ac.uk/schools/humanities/research/historyresearch/researchprojects/knittingintheround/